Fire Damage Restoration Near Brevard County
Fire Damage Restoration in Melbourne
It's one of the leading problems no Melbourne property owner wants to deal with, Fire Damage Restoration. The headaches of black smoke, puff back, odorous gunk, stubborn stains, and dusty ashes. Not only are the stubborn stains of fire damage difficult, but it also poses a risk to your health.
You don't want to be inhaling toxic smoke to damage your lungs while trying to attempt fire damage removal. That's what professional fire damage experts are for. Leave the dirty problem of fire damage to the experts at 911 Restoration orlando.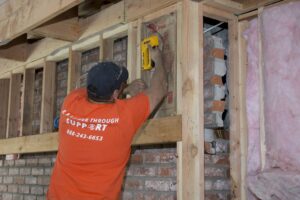 Whether you have an accident over a careless mistake that causes a fire at your Melbourne estate, we got you.
Our 911 mold restoration experts in Melbourne are there at the speed of your service when you need help most. In fact, we'll be there at the scene of fire restoration within 45 minutes after any call you make.
How do we arrive so quickly?
We're located within reach which allows us to serve Brevard County and in cities like Melbourne, Titusville, or Merritt Island.
So have peace of mind for your smoke removal needs. Because a Fresh Start is only within reach after any kind of fire cleanup.
The Friendliest Fire Damage Restoration in Titusville
Our fire and smoke restoration experts in Titusville are understanding when it comes to your situation. While your world may be full of distress and worry, 911 Restoration of Brevard County believes in second chances. And our service isn't done until you get there.
Smoke damage is stubborn. You may not know where to begin or what cleaning product to use. We advise fire damage property victims to consult with a professional to begin the restoration process. The last thing you'd want is stains that got worse because you used commercial cleaning chemicals made for something else.
Our restoration experts in Titusville are IICRC-certified to the highest standards, equipment, and protocols. That includes using heavy-duty cleaning products to make your place brand new and free of puffback smoke.
Don't let stubborn black stains ruin your day with overwhelming stress. Our fire and smoke experts will assure nothing but the best service you deserve. Once they arrive on the scene, they'll perform an in-depth fire damage assessment to make sure nothing gets missed. They'll see what's at stake, potential vulnerabilities, and key areas that need restoration.
Then they'll begin clearing and the process of dehumidifying with the latest technology in case water damage was to be involved. You wouldn't think water would be a problem of fire damage. But on the contrary, fires can cause burst pipes and leaking problems around the property.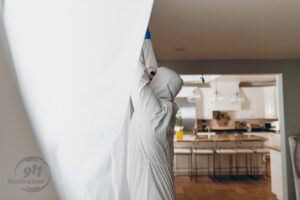 911 Restoration of Brevard County prides itself in proving every customer service second to none in class. That means you receive a smoke removal experience that's worry-free, the way it should be.
We mean it. In fact, you won't stress again about having to deal with your insurance company. Because that's already a headache on its own. We'll even bill your insurance company on behalf of 911 Restoration of Brevard County,
Who knew the steps to a brand new property free of fire damage was that easy?.
The Only Fresh Start Fire Restoration Company in Merritt Island
There's no other company within Merritt Island who says they guarantee a Fresh Start. It's what makes us unique and why our customers love us. Because we aim to do the impossible in getting you back on your feet free of fire and smoke damage.
Our Fresh Start guarantee is what we aim for.
100% satisfaction every step of the way

A 45-minute arrival time or less after every phone call

IICRC-certified fire cleanup experts trained to deliver the best service

Customer service that treats you like family

Time and reliable service you can count on 24/7/365 days a year
So Melbourne business owners and property owners have the assurance they've got their bases covered 24/7. We've served thousands of customers in Melbourne who were once in your shoes who are now living their best lives at home.
Give us a call anytime you need us for your fire removal needs. Because no one has the time to deal with disgusting gunk, odorous smoke, and fire damage removal.
Not sure where to start? It begins with a free smoke damage inspection and we'll deliver you everything you need to know.
We've got the Fresh Start you've always been waiting for, and now is the time to get just that!
Serving the communities of Cape Canaveral, Cocoa, Cocoa Beach, Melbourne, Merritt Island, Mims, Orlando, Patrick Afb, Rockledge, Satellite, Beach, Titusville and surrounding areas.