Storm Restoration near Brevard County
Storm restoration cleanup. It's one of the biggest fears no Melbourne property owner wants to ever encounter. Because who asks for an emergency disaster to strike their hard-earned property? But accidents and disasters happen when you least expect them and are unavoidable most of the time. Whether it be basement flooding, smoke and fire damage, burst pipes, or mold on walls – no disaster is forgiving.
That's why 911 Restoration of Brevard County prides itself on fast, reliable, and quality service you can count on. In fact, you can be assured our disaster restoration experts will be at the scene within 45-minutes of your call. Because the last thing we'd want for you is to suffer from no help in sight.
Our emergency restoration team located in Melbourne serves all surrounding areas and cities like Titusville and Merritt Island. It's how we're able to arrive at your Melbourne property so quickly.
Our IICRC-certified restoration professionals are equipped with the highest standards in the industry. That means they are trained with the right protocols for any disaster handed to them.
Sewage cleanup & water damage restoration
Mold removal & mold inspection
Sanitization & disinfection services
Commercial restoration & emergency restoration
Smoke, odor, & fire damage cleanup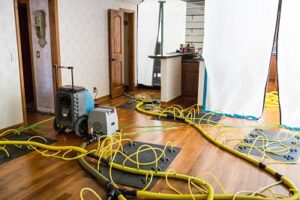 So regardless of what's the underlying problem at stake, you have the assurance of a team that has your back.
And while you may be going through a difficult time, know that disasters are temporary. Especially when you have a Fresh Start waiting around the corner when you work with 911 Restoration of Brevard County.
Melbourne Water Damage Restoration Company With Storm Restoration
We know how difficult it is having to deal with water damage cleanup. No one wants to face the hassle of a flooded basement and hidden leaking pipes behind the walls.
The thing about water damage is its ability to get in the slightest cracks in your Titusville property. And if left untreated promptly, you and all property inhabitants face the risk of the growth of mold on walls. Another serious can of worms that can cause harmful consequences. Imagine ending up in the emergency room from fainting from the mold you had in your house for years without knowing.
Take the uncertainty out of the picture to have a clear mind with a free mold inspection. Once our 911 water restoration and 911 mold restoration experts arrive at your property, they'll ensure your safety first before protocols. Then they'll perform an in-depth assessment to make sure all vulnerabilities and damages are documented.
They'll be looking for key signs of damage like flooding, leaks, burst pipes, or mold growth. You'll also have a discussion about
the problems on hand along with the best practical solution to how we'll tackle them.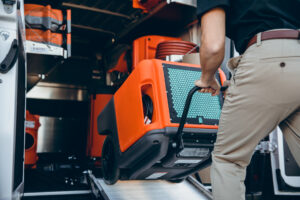 Then if you wish to move forward with the water damage restoration process, all your belongings will be stored safely. The dehumidifying process will then begin with state-of-the-art technology that clears all traces of water. You'll be certain no spots will be missed.
Feel free to ask our water damage technicians questions anytime during the restoration process. We'd hate for any Merritt Island property owners to be uncertain at any time during our assistance. Yet we pride ourselves in providing the friendliest customer service.
Don't let storm damage or water cleanup stop you from living the life you want. 911 Restoration of Brevard County has the Fresh Start you need to rebuild your life and home again.
The Only Fresh Start Disaster Restoration Company in Melbourne
While experiencing disaster may feel stressful and overwhelming, it doesn't have to be. Leave your worries aside for your Melbourne property because you'll soon be working with the best in class. You can thank our Fresh Start promise every customer gets.
The arrival ofour disaster cleanup crew 45-minutes or less
IICRC-certified staff trained with years of experience under their belt
An experience without ever having to deal with your insurance company
Assistance anytime you need us 24/7/365 days a year
Friendly, reliable, and fast staff you can count on
Business owners and property owners in Melbourne, Titusville, and Merritt Island can have rest assured knowing they're in good hands. 911 Restoration of orlando has helped thousands of customers over the years who were once in your shoes. And we're glad to see every single one of them rebuild their lives and homes from disaster.
Don't know where to start with your emergency disaster cleanup?
Call us today for a free water damage inspection, and we'll be there within the next 45-minutes!
Who knew a Fresh Start was this easy?
Serving the communities of Cape Canaveral, Cocoa, Cocoa Beach, Melbourne, Merritt Island, Mims, Orlando, Patrick Afb, Rockledge, Satellite, Beach, Titusville and surrounding areas.