Mold Removal near Melbourne
Florida property owners know how much of a hassle the wet and hurricane seasons can be and how likely Mold Removal can be needed. It's all sunshine and rainbows up until the water damage creep in on your Melbourne property. And it also doesn't help how humid warmer months can be in Florida. This brings the geographical location of Melbourne to an interesting point of potential problems like mold.
Mold removal is no easy task, therefore shouldn't be taken lightly. Because the moment you procrastinate on eradicating the onset of mold is asking for more problems.
Because the moisture content in Florida is so high year-round, Melbourne property owners are more prone to mold growth.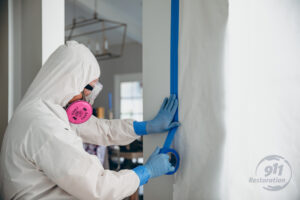 These annoying fungi thrive in dark yet wet spaces to trick you into thinking there's no problem. Which is one main reason why most Florida property owners think they don't have a mold infestation thriving at home. Just because it's invisible, doesn't mean everything's ok.
And when left untreated for months or years, mold growth opens more doors to problems around personal health. Instances like asthma, headaches, coughing, allergies, and in rare cases death are a few to name. Because the last thing you'd want is a hefty hospital bill from a negative reaction from mold spores.
It's time to stop living in uncertainty and fear not knowing if you have a serious underlying mold problem.
Call 911 restoration near me for your free mold air inspection to get the assurance you need.
The Mold Removal Company in Melbourne That's Fast and Reliable
The rate and which mold grows is fast. But what's faster is 911 Restoration of Brevard County's service to remediate mold growth in your Melbourne property.
We mean it when we say we're fast. The moment you give us a call, we promise to be at the scene of disaster within the next 45-minutes. When our mold remediation experts arrive at your property, they'll perform an in-depth mold inspection. This will give them an understanding of the seriousness of the problem at stake.
And because our mold experts in Melbourne are IICRC-certified, that's how you know you're in good hands. They're trained with years of experience and have seen it all. During the inspection process, they'll be looking for key signs such as leaking ceilings, burst pipes, or flooded basements. All sources of water that promote the growth of toxic mold on walls.
Then the mold cleanup process begins the moment you agree to move forward. Our mold experts will then isolate all your belongings safely in a secure space from further damage. State-of-the-art dehumidifying equipment will then be used to speed up the drying process.
Before you know it, you'll soon be walking into a safe and clean home free of mold.
No property owners in Melbourne, Titusville, Merritt Island, and surrounding cities deserve to live in fear in their own homes. While dealing with mold on walls and mold cleanup can be a daunting experience, it doesn't have to be.
You'll work with the best in class with 911 Restoration of Brevard County. We believe in second chances, top-notch customer service, and a Fresh Start that's within reach.
Have rest assured the mold decontamination process in your Melbourne estate will be a breeze with a team that cares.
The Fresh Start Mold Remediation Company in Melbourne
If it's one reason why our customers love us, is our unique Fresh Start promise no other company can match up to. 911 Restoration of Brevard County has the resources of a national brand but the feel of a small regional company. In other words, you get the best service you're deserving of because of our Fresh Start philosophy.
100% satisfaction guaranteed
Reliability and assistance 24/7/365 days a year anytime you need us
The friendliest staff on standby to help you with any concerns
A 45-minute guarantee after every call you make
Passionate IICRC-certified experts who care about you
So why put you and your loved ones at risk of not knowing your health is in danger? The first step to take action is to have confidence in the safety of your home with a mold air inspection. It's free at 911 Restoration of Brevard County and we'll guide you every step of the way.
Business owners and property owners in Melbourne can finally have the guarantee of a bright future ahead. Because home was meant for safe and clean spaces to live your best life.
Call 911 water restoration today for the Fresh Start that's just around the corner!
Serving the communities of Cape Canaveral, Cocoa, Cocoa Beach, Melbourne, Merritt Island, Mims, Orlando, Patrick Afb, Rockledge, Satellite, Beach, Titusville and surrounding areas.